The Toolkit Curriculum:
Finnish Early Education Curriculum for any kindergarten in the world
The Toolkit is a play-based curriculum inspired by the early education from Finland. Any kindergarten or preschool wishing to implement Finnish-style teaching can easily implement the Toolkit curriculum with the help of its well-structured activity plans and monthly themes. Watch the short video to learn more!
What's Inside the Toolkit?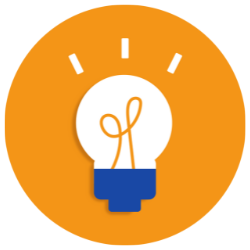 Introduction to Finnish ECE
To orient your teachers to the Finnish style of learning, the Toolkit includes an entire module of theoretical and practical materials. It covers the main principles and values of teaching children the Finnish way. Teachers also learn how to support children in their individual learning journeys and ways to ensure a safe, secure learning environment with a daily flow and routines.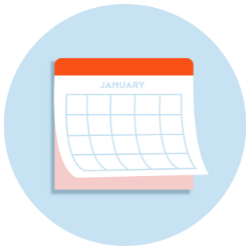 Monthly program with daily lesson plans
This section provides a monthly themed program for three different age groups: Tiny Tots (1 - 2 years old), Eager Explorers (3-4 years old) and Lively Learners (5-6 years old). Each age group has two daily lesson plans for five days a week with easy-to-follow instructions and materials like worksheets and tutorial videos. It includes a package of outdoor lessons, as well as recommendations for field trips and books.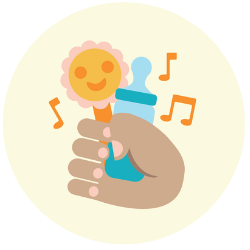 Learning materials for babies
The "Bright Babies" package is built for children ages 4 to 12 months. It supports babies' playful learning by offering suggestions for the learning environment, ideas for sensory play and other activities. It includes tips about how to add pedagogy to daily caretaking moments and a self-study section to help teachers learn more about babies' growth and development with topics such as ensuring a smooth start and establishing warm interactions.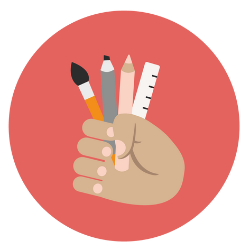 Pre-primary preparatory lesson plans
This section helps teachers prepare their oldest students for the transition from early learning to primary school. It provides 10 months of project-based learning activities with an emphasis on linguistic and mathematical skills. The lessons also foster the socio-emotional competencies needed for primary school.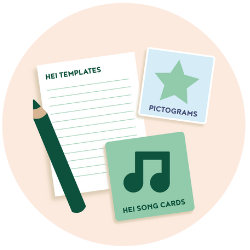 Tools, templates and extra resources
Your teachers will get access a variety of tools for observation, assessment and planning. These easy-to-use forms are printable and adaptable to your local needs. The Toolkit also includes educational articles and webinars, as well as first access to live events and trainings hosted by HEI Schools.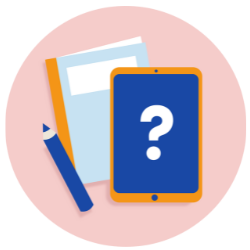 Self-study materials for teachers
The Toolkit provides thematic materials each month to enrich teachers' daily practices. It includes the latest research and articles, practical video guidance, and tasks for teachers to apply what they learned. Topics such as group management, positive pedagogy and STEAM education comprise this section.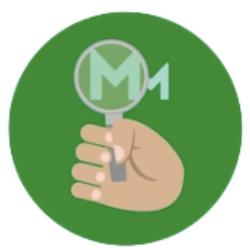 Marketing materials
To support your marketing efforts, the Toolkit includes graphics, informative short videos and copy texts about the HEI Schools approach. With simple language and attractive visuals, these materials will help you explain the Finnish method to families and advertise that you are using the progressive approach at your school.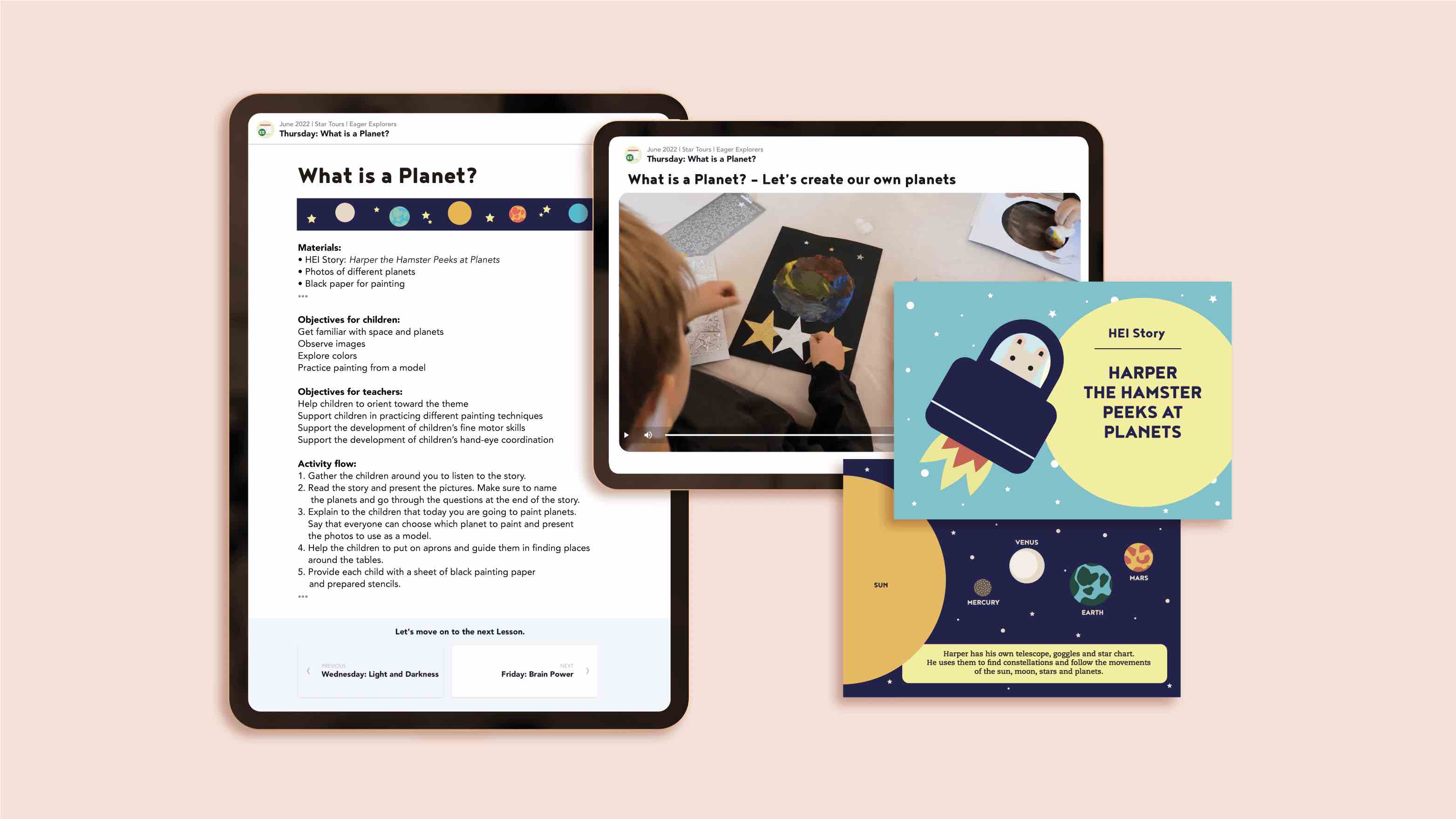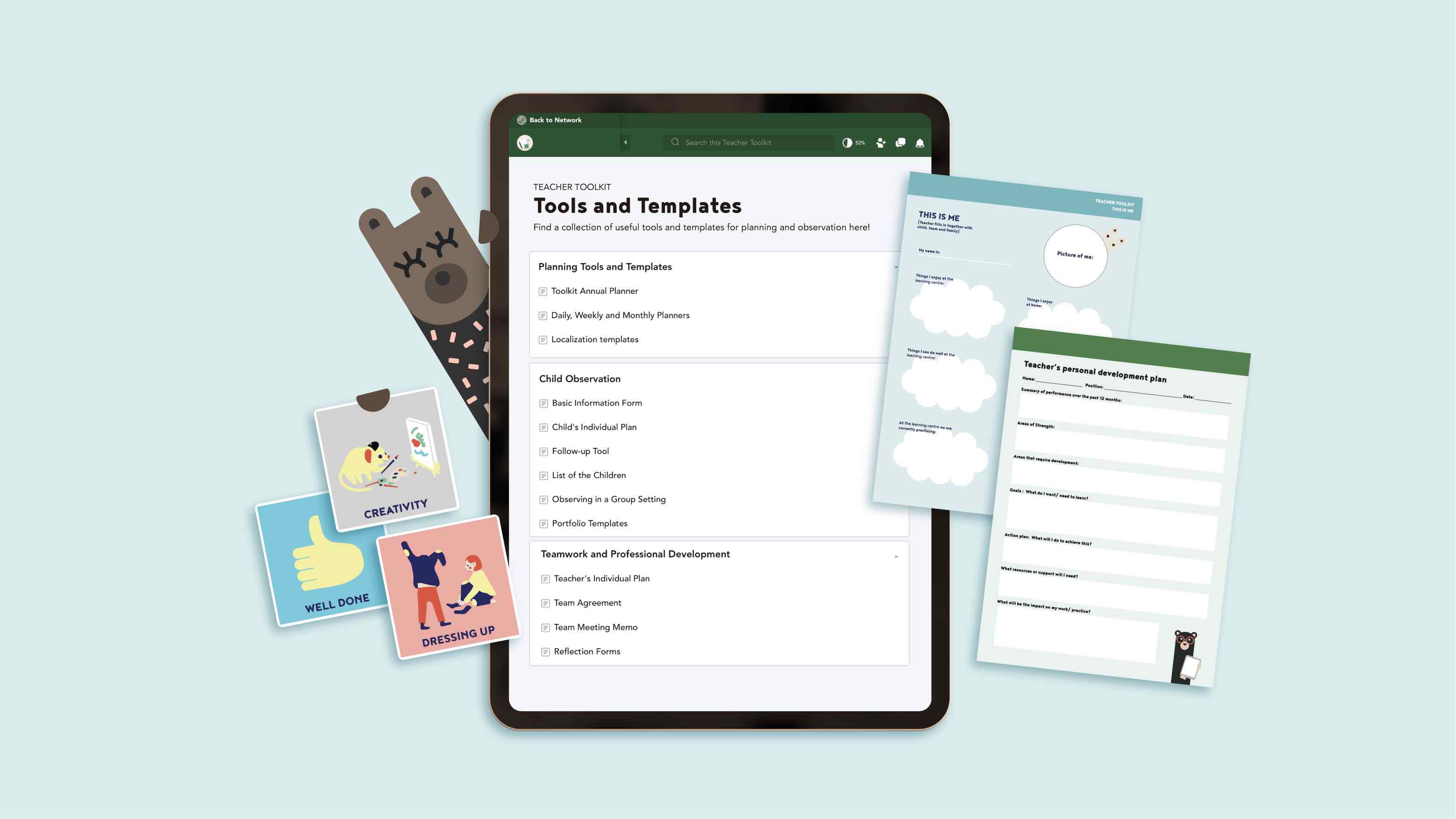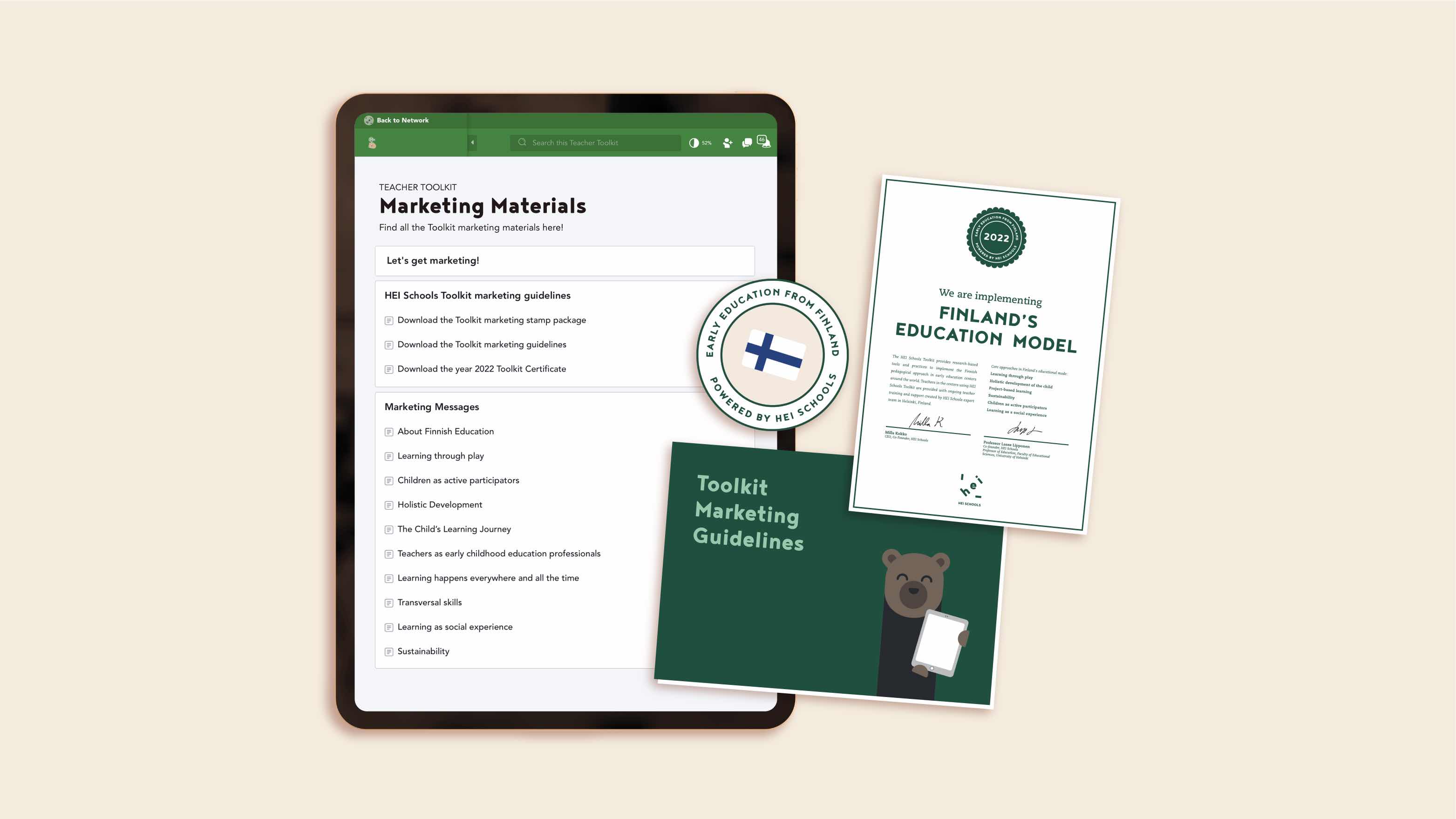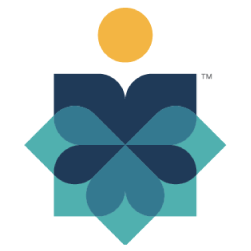 "We experienced a 15 % increase in the early program enrollment after the first year of using the toolkit."
Spectrum International Schools, Malaysia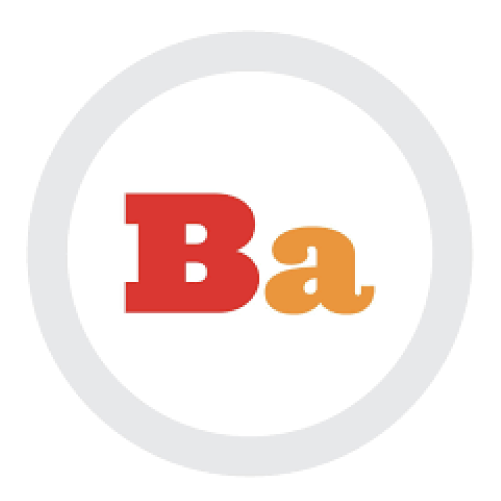 "The toolkit has restored and renewed my passion and energy as an educator!"
Beta Academy, USA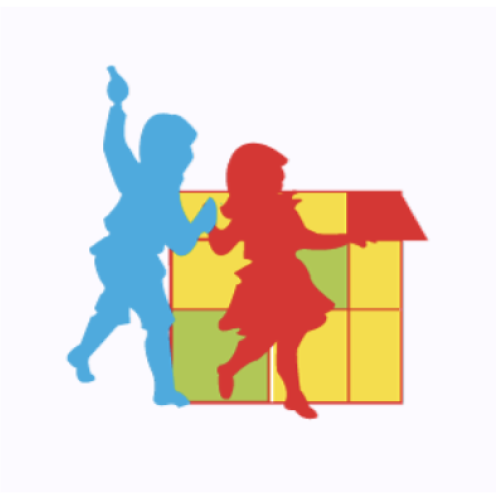 "Our teachers no longer have to use their holidays planning activities!"
Montessori Schools, Kenya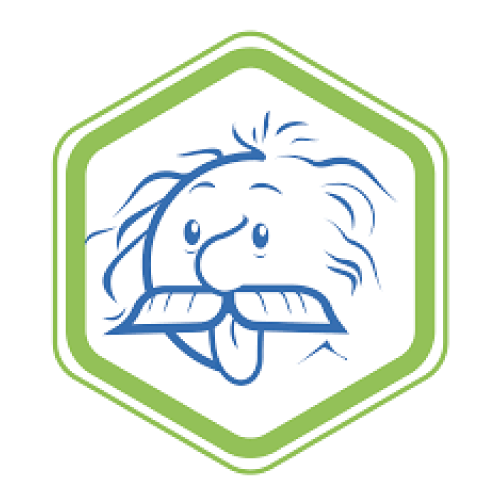 "With the Toolkit, it's all done for you. I am sure it will cut down on preparation time for teachers."
E=MC2, South Africa
Frequently Asked Questions
Do the activities inside the program cater to different age groups?
Yes. We provide tailored activities for the following three different age groups:
1-2 year-old children, called Tiny Tots
3-4 year-old children, called Eager Explorers
5-6 year-old children, called Lively Learners
In addition to these, you can also find suitable activities for children who will soon start their school journey in the package called "Pre-primary Materials." This package includes activity plans that support children's school readiness abilities. There's also a special section for babies (4-12 months old) called "Bright Babies".
Does the Monthly Program of HEI Toolkit completely cover our needs for curriculum content?
The Toolkit materials include 2 activity plans per day for each age group, and it can be used as a stand-alone curriculum at your school if you wish. It is built based on the requirements of early childhood education of Finland and follows the main principles of the Finnish national curriculum. We encourage you to add sessions specific to your local country, culture and learning objectives as well.
How do I localize the curriculum? Will I get support in localizing and implementing the Toolkit at my school?
We provide different tools to help you with localization, including a matrix of learning areas with learning objectives and targets per age group. By comparing these targets and learning outcomes to your local needs and requirements you can modify the activities we provide to suit your local curriculum.
The Toolkit functions on a digital platform where you can reach out to us if you have any questions. We also organize Q&A online sessions with our pedagogical team to address subscribers' questions and concerns. However, it's good to keep in mind that the Toolkit is a subscription service with no personal consultation service included as such.
Combining the Toolkit with the HEI Schools Teacher Diploma course is also an excellent choice. The Diploma course gives your teachers a deeper understanding of the Finnish play-based education methods and they learn how to effectively implement the methods in the classroom with the help of practical assignments.
Is there any way to test the Toolkit to see how it works in practice?
Yes! We have a free demo version of the Toolkit at www.heischools.com/demo.
Please note that this is a limited version of the Toolkit just to give you an idea of the structure and functionalities. It includes examples of the daily activities and other materials. We warmly recommend that you book a meeting with our partnerships team for a more thorough demonstration by filling out our form below or emailing sales@heischools.com.
Is it possible to get teacher training when purchasing the Toolkit?
Yes, HEI Schools offers an online or on-site training option that complements the Toolkit. The training focuses on the principles of play-based education and how to implement them in practice with the help of the Toolkit curriculum. Please contact the partnerships team for details and prices at sales@heischools.com.
Can I use the HEI Schools name in my advertising and communication?
Due to licensing reasons, you cannot be called "HEI Schools" as a toolkit subscriber. However, you'll be able to advertise that you are using the Toolkit curriculum and pedagogy from Finland.
To make things easier for you, inside the toolkit we provide a marketing kit for your school to advertise the Toolkit with banners, social media posts, brochures and website templates. Please bear in mind that the Toolkit marketing materials cannot be used to portray HEI Schools as a part of your school name or brand.
However, if you would like more of the HEI Schools brand, you always have the option to upgrade to a HEI Schools Learning Center. Please contact the partnerships team at sales@heischools.com to learn more.
Can you implement this program if you already have established programs within the school such as IB or Reggio Emilia?
The Toolkit is all about how to teach and learn and how to support children with all the skills they will need throughout their school career and life. It can be combined with other activities as long as teachers consider playful methods and ways to motivate children.
The activity plans do not have to be followed rigorously every day. You may choose activities that suit the needs of your group of children. You can also adapt the activities or use only parts of them.
Do you need to make changes to the school facilities and or purchase specific materials when using the Toolkit?
No specific changes are needed. All the materials used in the Toolkit activities are ones that can usually be found in the classrooms.
Learn how the Toolkit can be implemented at your kindergarten
Get in touch with us and we will be happy to tell you more about the Toolkit Curriculum and the learning materials, assessment tools and training materials it includes.