HEI Schools Breaks Ground in India with First HEI Schools Kindergarten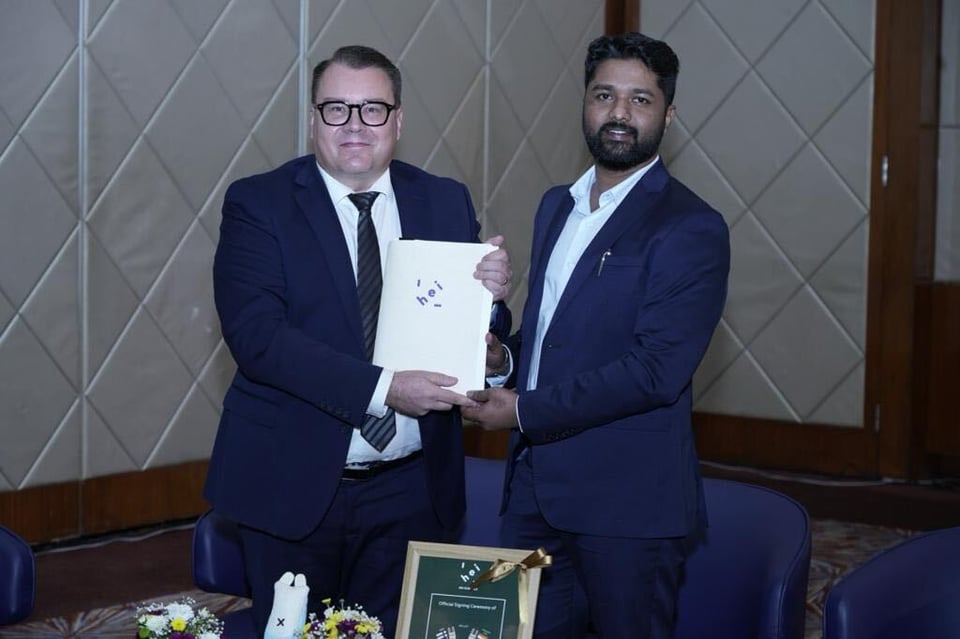 HEI Schools (Helsinki International Schools Group) is pleased to announce a new partnership with an established Indian education entrepreneur, marking the introduction of the Finnish early education system in India. This meaningful partnership upholds HEI Schools' long-lasting mission to provide high-quality education around the world.

The partnership between HEI Schools and Mr. Ajay Ashoka was formalized on October 17th, 2023, at a signing ceremony in Bangalore, attended by Finland's Education Minister Anna-Maja Henriksson. Minister Henriksson acknowledged the positive impact of the Finnish educational approach globally and offered her congratulations to HEI Schools and Mr. Ashoka on the initiation of this new educational endeavor in India.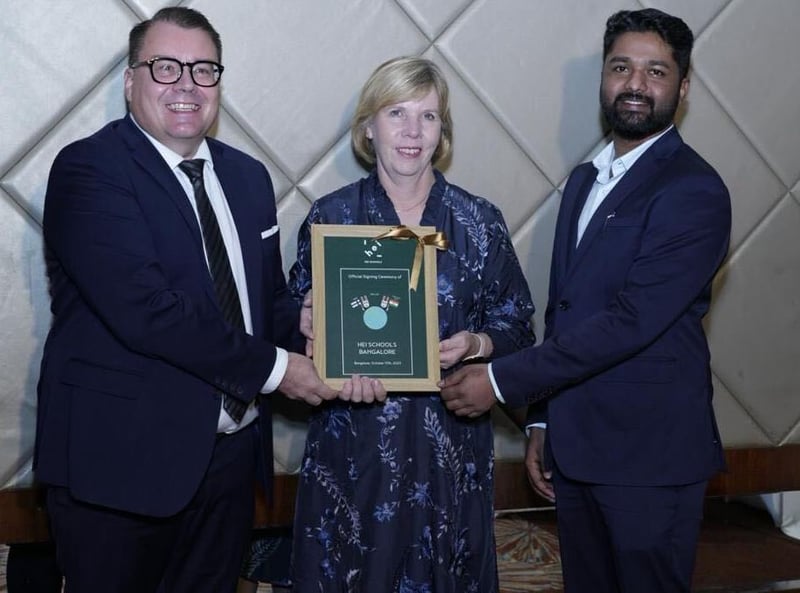 From the left: Mr. Heikki Vartia, Head of Global Partnerships, HEI Schools. H.E. Mrs. Anna-Maja Henriksson, Minister of Education of Finland, Mr, Ajay Ashoka, Entrepreneur and owner of HEI Schools Bangalore.
Mr. Ajay Ashoka, having discovered Finnish Early Childhood Education and HEI Schools through his own research, brings his business expertise and experience from owning and operating two leading institutions, National Public School Jakkur and National Public School Jalahalli. Mr. Ashoka voiced his enthusiasm for the partnership:
"The establishment of the HEI Schools kindergarten is the right step toward enriching the educational fabric of Bangalore. It is an honor to be at the forefront of this meaningful partnership, promising a bright future for our youngest learners."
HEI Schools' Head of Global Partnership, Heikki Vartia, speaking on the potential for educational development in India, highlights:
"India has the economic and demographic progress that supports educational projects like HEI Schools. The Bangalore campus is HEI Schools' first signed project in the country and is expected to be opened in 2025."

Inkeri Aimonen, the CEO of HEI Schools, also excitedly shared:
"We are excited to present Indian families with a progressive approach to early education that goes beyond academic skills to nurture holistic child wellbeing and essential 21st-century skills"
The upcoming kindergarten will adopt the HEI Schools Learning Center concept, with plans to accommodate up to 500 children between 2 to 6 years old. It will be located in a suburb of Bangalore, a city that is known for its rapid development and as a hub for India's IT industry.



More information:
HEI Schools Learning Center concept
The HEI Schools Learning Center concept allows for the opening of Finnish-style kindergartens, preschools, and nurseries globally. It provides an extensive curriculum inspired by Finland's Early Childhood Education and Care and the National Core Curriculum, focusing on play and exploration. The concept includes extensive teacher training and mentoring programs, as well as ongoing support and training for the entire pedagogical team. The learning environment is designed based on research-proven concepts to support children's well-being and learning. All HEI Schools Learning Centers around the world are part of the global HEI Schools Community, a community of passionate educators.
Mr. Ajay Ashoka's establishments
Mr. Ajay Ashoka's current schools, NPS Jakkur and NPS Jalahalli are leading institutions in Bangalore with significant achievements. NPS Jakkur is an international school that offers a holistic approach to education, with a curriculum that meets both ICSE and IGCSE standards. NPS Jalahalli is recognized for its state-of-the-art infrastructure and has been instrumental in pushing the boundaries of traditional education through innovative teaching techniques and a curriculum that empowers students. The leaders of both institutions have been awarded for their excellence, demonstrating the schools' dedication to quality education​​.
The signing ceremony in Bangalore, Karnataka
In connection with the DIDAC India event, the signing ceremony in Bangalore, Karnataka was organized by Education Finland, a national program managed by the Finnish National Agency for Education. This program aims to promote Finnish educational expertise and learning solutions globally with HEI Schools as a member of this program.
Contact information:
HEI Schools Bangalore
Mr. Ajay Ashoka
Mobile: +91 99801 87124
Email: ajayashoka01@gmail.com

Heikki Vartia // Head of Global Partnerships (SEA)
Mobile: +358 40 5177677
Email: heikki.vartia@heischools.com