HEI Schools to open an outdoor-focused HEI Schools Club on Nami Island, Republic of Korea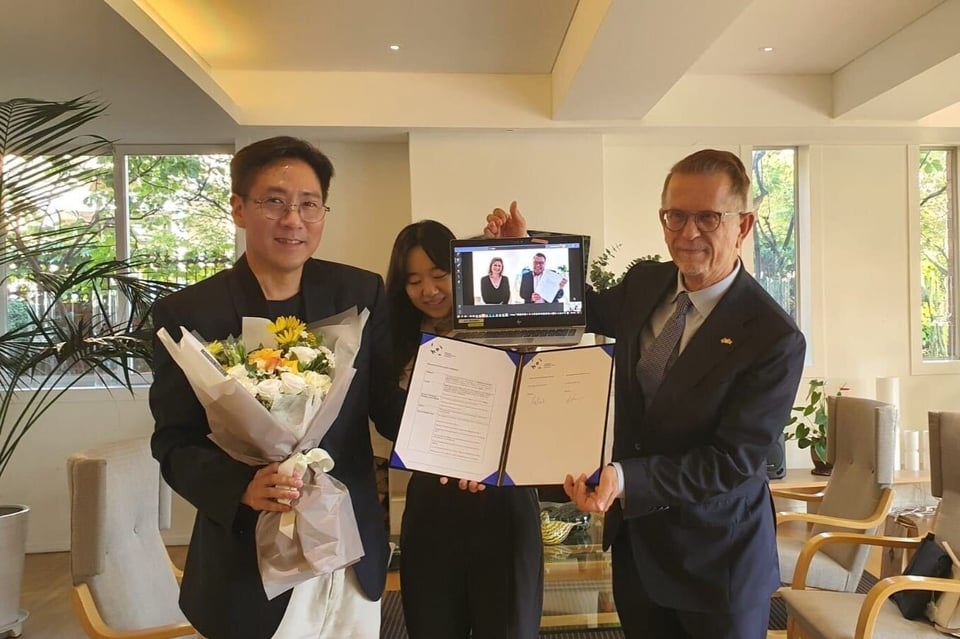 From left: Mr. Fred Minn, CEO, and Ms. Ellen Chang, Chief International Liaison of Nami Island Arts and Education Inc., Ms. Inkeri Mentzoni, Director of Sales, and Mr. Heikki Vartia, Sales and Partnership Manager of HEI Schools (on computer screen), and Mr. Pekka Metso, Finnish Ambassador to Korea, celebrate the signing of HEI Schools Club Nami Island.
Helsinki International Schools Group (HEI Schools), a Finnish company that exports the Finnish early childhood education model around the world, is excited to announce that its outdoor-focused HEI Schools Club will be opened on Nami Island, Korea, early next year. Nami Island is a popular leisure resort about an hour's drive from the capital city of Seoul, and HEI Schools is partnering with Nami Island Arts & Education, Inc., a corporation that is an experienced provider of education and art programs on Nami Island, to open the club with a special focus on outdoor activities.
Children who participate in the club will have the opportunity to participate in activity sessions that last from two to four hours and are based on the learning areas of the Finnish early childhood education curriculum. The club activities will cover subjects such as math, science and linguistics, as well as arts and physical wellbeing, and they will be tailored for age groups ranging from one to seven years old. Local teachers will be trained to conduct the activities using the Finnish play-based pedagogical approach that has made the country's education so well-known in the past few decades.
"We first learned about the Finnish education system and HEI Schools concept when we visited Finland last year, and we decided to add the HEI Schools Club to our wide portfolio of programs and concepts at Nami Island. We are confident that the Finnish pedagogy will receive an increasing interest among Korean families who want to give their children a happier childhood without compromising their learning results. We also plan to develop the Club activities into a full Learning Center in the future,"
says Mr. Fred Minn, CEO of Nami Island Arts & Education, Inc.
A short ceremony to celebrate the signing of the HEI Schools Club license agreement was arranged in Seoul at the residence of the Finnish Ambassador on September 22. The Finnish Ambassador to Korea, Mr. Pekka Metso, and First Secretary from the Finnish Embassy, Ms. Jaana Montonen, hosted the event. Mr. Minn and his colleagues, Ms. Ellen Chang, the Chief International Liaison, and Mr. Bob Lee, the Chief Coordinator for Education, were the honored guests from Nami Island Arts & Education, Inc. Also in attendance were Country Manager Suvi Sundquist and Advisor Gloria Choi from Business Finland. HEI Schools Director of Sales Inkeri Mentzoni and Sales and Partnership Manager Heikki Vartia participated in the ceremony via remote connection from Finland.
Ambassador Metso stated, "We are excited about the success of Finnish education in Korea. HEI Schools has already opened several Learning Centers in Korea, and we are delighted to see that it is partnering with local businesses to implement new concepts based on the Finnish early childhood education curriculum here. Promoting Finnish education and supporting educational exports is a special focus for Finnish representatives abroad, and I am very happy to host a ceremony like this."
Mr. Vartia added, "We are delighted to be opening a HEI Schools Club on Nami Island together with Nami Island Arts & Education, Inc. The company is the perfect partner in bringing the HEI Club with outdoor focus in Korea. We also believe that giving the children a chance to participate in the HEI Club sessions on Nami Island will increase the interest and demand for Finnish Education in general."
The Club is expected to open in early 2021 and will first cater to children ages 4 to 7 years old. As the program expands, it will be open to younger children as well, and perhaps even be developed into a Learning Center.
HEI Schools Nami Island was recently included in an episode of "Diplomat Talks":
Interested in learning more about what children learn at HEI Schools? Check out our page on the Learning Experience: