Early Learning for Babies and Toddlers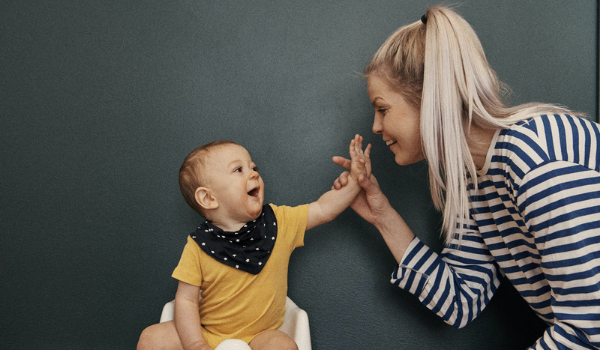 "Can toddlers learn anything?"
"Is early education just babysitting?"
"What's the point of bringing my baby to school?"
We hear these questions often in our line of work, and our answers are yes, no and let us explain! In this article, we'll explore what children under 3 years old need in terms of care and education and how they fit into the Finnish model of education.
Early Learning Basics
When caring for babies and toddlers, the most important part of the job is meeting their everyday needs, like sleep, hygiene, proper nutrition and security. In the first year especially, babies need to be fed and dressed, have their diapers changed and experience loving human touch and contact on a daily basis.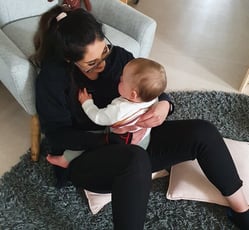 Because the majority of young children's care is associated with these hands-on basic needs, many people view early years childcare as glorified babysitting. Education at such a young age might seem impractical or even unrealistic, but it's actually important and productive.
There are many opportunities for early learning, whether it's listening to adults speak, having sensory experiences or socializing with others. Babies and toddlers are still discovering the world around them, so while we might consider an object or experience rather ordinary, it's completely new to them and therefore a chance to learn something new.
Examples of Early Learning
Because receiving care is such a large part of babies' and toddlers' everyday experiences, a lot of early learning can happen during care and in very natural ways. Let's look at some examples.
Changing diapers
What you can do:
- Count the baby's fingers and toes
- Name body parts while touching the corresponding body part

What this does: Pairing the sensory experience with verbal communication makes the language more meaningful to babies, so they'll start to learn what words mean.
Feeding/Eating
What you can do:
- Name the types of food or drinks they have
- Describe the textures and tastes of their food as they eat

What this does: Babies also learn by putting things in their mouth. Pairing that experience with spoken language helps them connect the words with the food.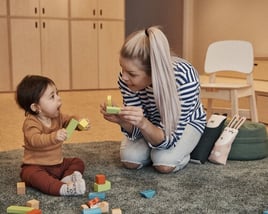 Interacting
- Make facial expressions and use a matching tone of voice
- Speak aloud and describe things, like what you're doing together or things around you

What this does: Observing displays of emotion and hearing words in context develops babies' social-emotional and linguistic skills.
Songs, rhymes and repetition are all excellent forms of communication during any of these moments too! Even if they can't repeat what they hear, babies start to build an understanding of language just by listening to it, and it helps with their own spoken language skills later on.
Speaking of repetition, routines are important too! Learn how to establish good routines for children.
Formal Early Learning Moments
Babies and toddlers can also benefit from formal educational moments, but such moments need to be intentionally created for that age group with their developmental limitations in mind. One typical preschool moment is circle time. For babies, it has to be adapted as follows:
Keep it short! Their attention span isn't very long.
Add musical moments. A few songs with lots of repetition is good.
Divide the children into smaller groups or interact with each child individually. This gives them the guidance and attention they need!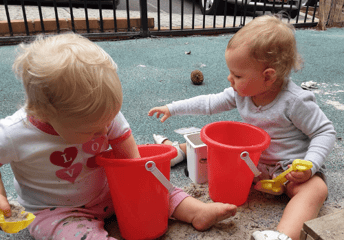 Babies and toddlers can also participate in hands-on activities, as long as they're relatively simple. Some effective approaches to learning with this age group are:
Projects: Make simple crafts or explore a new concept with multiple activities.
Exploration: Let children freely explore and discover new things, like balls or water, kitchen tools or beach toys.
Repetition: If an activity works well, do it again! Little ones enjoy repeating activities many times. They also learn because it leaves a mark on their memory.
While projects can't be very complicated, working with tactile materials is an effective and natural way for toddlers to learn. Sensory experiences are important for their development. They develops their abilities and ways to perceive the environment and their relations to the world around them.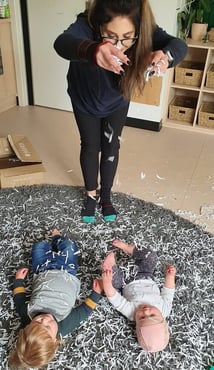 During exploration, children gain knowledge and skills. Because a lot of the world is so new to them, simply observing and exploring the spaces around them can be tremendously educational. Educators can heighten the experience, first by ensuring that the environment is safe for exploration and then by adding elements that enrich the moment.
Learn more about the HEI Schools learning environment and the science behind it.
Repetition plays an important part of the process as well because children can practice skills and learn new things. Therefore, routines are an essential part of the early learning environment. It gives children a sense of security in their surroundings, and once they feel secure, they also feel confident enough to explore and discover new things.
How Finland Approaches Early Learning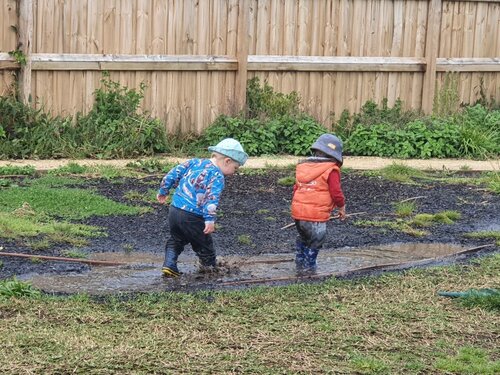 In Finland, early childhood education and care is highly valued and well-informed by research, which is why it is one of the best educational systems in the world. Formal early learning typically begins at one year old, and most parents choose to enroll their children in learning centers.
There is always at least one pedagogically trained teacher in each group, as well as assistants or nurses who are also trained in early childhood education and care. Teachers spend at least three years at university, and other adults in early learning classrooms are trained for at least 1.5 years. Therefore, all adults who work with children are well-qualified to provide care and education.
Another important part of early learning in Finland is cooperation with families. Teachers support parents in raising their children, and the Finnish government provides a national healthcare service for young parents that focuses on the health and wellbeing of young children.
Teachers give a pedagogical perspective when parents have questions or need advice about different aspects of their child's development and care. They also interview the parents about their child, routines, manners and more as the parents know the child the best. In Finland, teachers recognize that raising children requires teamwork, so they foster good relationships with families and work together in the best interest of children.
The HEI Schools Approach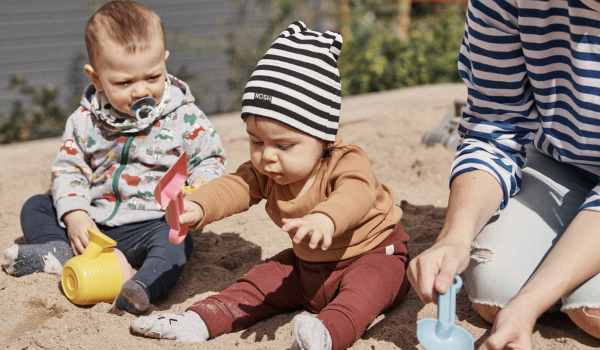 The HEI Schools curriculum, which is based on the Finnish national curriculum and developed in partnership with University of Helsinki, caters to children as young as four months old. Our high-quality materials, which are available in the HEI Schools Teacher Toolkit and as part of the HEI Schools Learning Center model, include an entire age group called "Bright Babies," which is tailored for children ages 4 months to 1 year old.
The Bright Babies materials include activities for sensory exploration and singing, two of the best methods for early learning. We also provide 'pedacare' tips, in which we suggest ways to utilize daily moments as learning opportunities and how to interact with children while conducting activities. Teachers receive ongoing training in the form of information about the different developmental phases and aspects of care, like feeding and nutrition, sleep and rest and taking care of hygiene. With this support, our educators are empowered to bring high-quality education to the littlest children every day.
---
Want to learn more about this topic? Waatch a recording of our webinar, "Zero to Hero! Why Teaching Toddlers is Important" to hear from a parent, a teacher and a researcher about education for the youngest children.